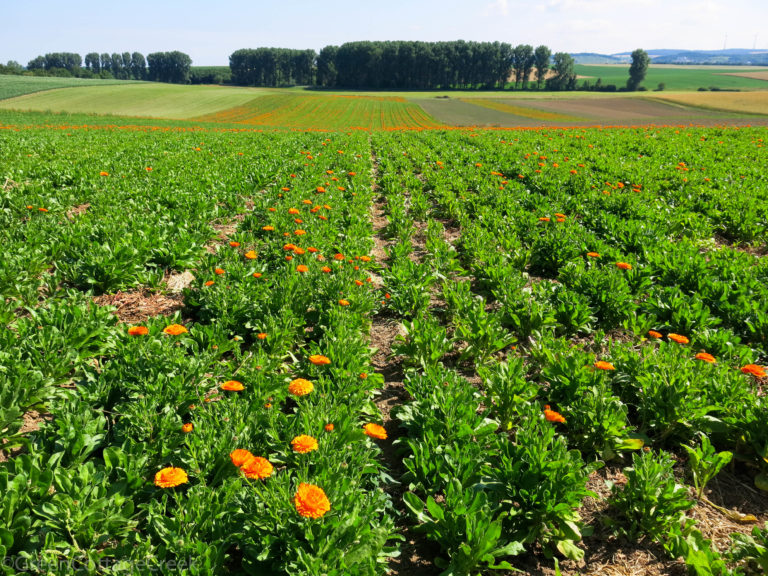 We offer top quality culinary and medicinal herb seeds wholesale to medicinal plant growers and farmers.
All of our seeds have been breed and processed in Germany according to highest industry standards, fulfilling the commercial grower's need for clean, pure seed material that comes true.
Seeds marked with a * Star * have been selected by the Bavarian State Agriculture and Horticulture Institute from global medicinal plant seed sources since 1991,  for specific medicinal raw material production traits, such as: 
high essential oil content
high constituencies content
high root | flower | leaf production yield
Medicinal Plant Seed Selection
Achillea millefolium wild form (Yarrow)
Acmella oleracea (Spilanthes)
Alchemilla alpina
Alchemilla xanthoclora (vulgaris) (Lady's Mantle)
Allium ursinum (Ramps)
Althea officinalis (Marshmallow)
Amomium subulatum (Black Cardamon)
Anethum graveolens (Dill)
Angelica archangelica
Angelica dahurica (Chinese Angelica, Bai Zi)
Aralia racemosa (American Spikenard)
Arctium lappa (Burdock)
Arnica chamissonis
Arinica montana
Artemisisa absinthium (Wormwood)
Artemisia annua (Sweet Annie)
Artemisia dracunculus (Russian Tarragon)
Artemisia genipi (Black Mugwort)
Artemisia ludoviciana (White Sagebrush, Prairie Sage)
Artemisia scoparia (Redstem Wormwood, Yīn Chén)
* Astragalus mongholicus (Chinese Milkvetch, Huang qui) *
Borago officinalis (Borage)
Calendula officinalis
Chamomilla (Matricaria) recutita, Chamomilla recutita 'Bodegold' and 'Zloty Lan'
Cichorium intybus var. intybus (Chicory)
Cimicifuga (Actea) racemosa (Black Cohosh)
Echinacea angustifolia
Echinacea pallida
Echinacea paradoxa var. paradoxa
Echinacea purpurea
Filipendula ulmaria (Meadowsweet)
Fragaria moschata (Musk Strawberry)
Fragaria vesca (Woodland Strawberry)
Fragaria vesca var. semperflorens 'Alexandria', Alpine Yellow', 'Golden Alexandria', 'Improved Rügen'
Galium odorata (Sweet Woodruff)
Gentiana lutea
Glycyrrhiza echinata (Roman Liquorice)
Glycyrrhiza glabra (Spanish Liquorice)
Glycyrrhiza uralensis (Chinese Liquorice)
Glycyrrhiza yuannensis (Yunnan Liquorice)
Helichrysum italicum
Hierochloe odorata (Sweet Grass)
Hypericum perforatum (St. John's Wort)
Hyssopus officinalis (Hyssop)
Inula helenium (Elecampane)
Leonurus cardiaca (Motherwort)
* Leonurus japonicus (heterophyllus, sibiricus) (Chinese Motherwort) *
Levisticum officinale (Lovage)
Lycium barbarum (Goji Berry, Chinese Wolfberry)
Malva sylvestris, M. sylvestris ssp mauritiana (Blue Malva)
Melissa officinalis (Lemonbalm)
Melissa officinalis 'Gold Leaf' , 'Lemona', 'Quedlingburger Niederliegende'
Mentha aquatica (Water Mint)
Mentha longifolia (sylvestris)
Mentha piperita (Peppermint)
Mentha pulegium (Pennyroyal)
Mentha spiciata (viridis) (Spearmint)
Mentha suaveolens (Applemint)
Nepeta cataria (Catnip)
Nepeta cataria ssp. Citriodora (Lemon Catnip)
Oenothera biennis (Evening Primrose)
Origanum vulgare wild form (Oregano)
Origanum vulgar ssp. hirtum (heracleoticum)
Perilla frutescens var. crispa 'Green Shiso', Perilla var. crispa 'Red Shiso'
Petasites hybridus (officinalis) (Butterbur)
Plantago coronopus 'Minutina' (Buck's Horn Plantain)
Plantago lanceolata (Ribwort Plantain)
Plantago major (Common Plantain)
Plantago media (Hoary Plantain)
Primula veris (officininalis)
* Prunella vulgaris *
* Rheum officinale (Chinese or Tibetan rhubarb, Da Huang)*
Rheum palmatum var. tanguticum (Turkish rhubarb)
Rheum rhabarbarum (Garden Rhubarb)
Rheum rhaponticum (Rapontic Rhubarb)
Rhodiola rosea (Rose Root, Golden Root)
Salvia lavandulifolia (officinalis var. lavandulifolia)
* Salvia miliorrhiza (Chinese Red Sage, Danshen) *
Salvia officinalis 'Extrakta' (Extract Sage)
Salvia officinalis f. albiflora
Salvia sclarea (Clary Sage)
* Saposhnikovia divaricata (Fang Fen herb) *
Satureja hortensis (Summer Savory)
Satureja montana (Winter Savory)
Satureja montana ssp illyrica (subspicata)
Satureja montana ssp citriodora
Satureja spicigera (repanda) (Creeping Savory)
* Scutellaria baicalensis (Baikal Skullcap, Huang Qin) *
Sideritis syriaca (Ironwort, Mountain or Shepherd's tea)
Stevia rebaudiana
Symphytum officinale (Comfrey)
Tanacetum (Chrysanthemum) parthenium (Feverfew)
Thymus mastichina
Thymus pulegioides (Field Thyme)
Thymus serpyllum hort.
Thymus vulgaris 'French Summer' (French Thyme)
Thymus vulgaris 'Standard Winter' (Common Thyme)
Thymus zygis
Urtica dioica
* Valeriana officinalis *
Verbascum densiflorum (thapsiforme)
Viola odorata
Viola odorata 'Königin Charlotte', Viola odorata 'Reine de Neiges' (Eismeer, Schneekönigin)
Viola tricolor
How to order
To order, please send us our  plant seeds list, and provide quantities in 50-100 - 1000 grams increments, as well as with the ship-to US zip code, and we will reply with a price quote.